According to Wikipedia, a disruptive change is an innovation that creates a new market by applying a different set of values, which ultimately (and unexpectedly) overtakes an existing market. It begs the question - why are some organizations capable of successful innovative change while others either fail to change or fail to recognize the opportunities. The potential economic impact cannot be overstated. According to the McKinsey Global Institute, two disruptive innovations - advanced robotics and cloud computing - have the potential to impact over $9 Trillion in global economic activity.
The IPOD – A Successful Disruptive Change
In mature markets, successful companies work on incremental improvement. A tweak here, a tweak there. This works until disruptive change happens. Then, these incrementalists are often swept away, as their reliance on incremental product improvements or reducing cost blinds them to innovation that makes their products outmoded almost overnight. One case that is easily recognized is music delivery that moved from analog album delivery on vinyl and then tape to digital delivery on CDs. Then came a series of attempts at disruptive change: first MP3 that allowed efficient storage and transfer of music including Napster; and then in rapid succession Apple introduced the IPOD and Microsoft introduced the Zune. Clearly Apple's IPOD was the innovative change that has been the long term mover of the market and forced competitors as well as music producers to change or die.
The Winners are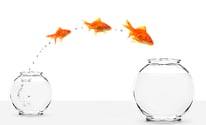 Adaptive Organizations™
The difference between winners and losers is the organizations and their underlying ability to change the way they do business. Could they move from successful delivery of an "old" product to innovation of a "new" product? Innovative changes often require the organization to transform people, process, and operational systems. As statistics show, most changes (up to 80%) are NOT successful. We therefore refer to the successful organizations as Adaptive Organizations ™ (AO). An AO:
Anticipates and welcomes change as an opportunity to learn and improve, rather than defensive and resistant to change
Integrates changes in processes, roles, structure and metrics quickly, rather than analyzing changes over and over
Evaluates results and makes faster modifications so that sustainability comes quicker, rather than ponderously and slowly deciding to make modifications
Views best practices as an opportunity to catapult over competitors, rather than merely copying some other organization's "best" ideas
Works at aligning individuals and teams with their overall direction, rather than based on a single individual's preferences/agenda
Develops an ego-less culture, rather than playing politics endlessly
Use the following six-level model to determine AO maturity, gaps, and actions

| | | |
| --- | --- | --- |
| Level | Title | Attributes |
| 0 | Unrecognized | Change is not considered a critical success factor for the organization. |
| 1 | Unstructured | A need for change is recognized, but no standard tools or approaches are applied and chances of success are low. |
| 2 | Directed | Change is treated as a command and control problem. Success is limited to single initiatives. People issues are ignored and resistance is met with disciplinary action. Long term issues are not addressed. |
| 3 | Repeatable | A standard change methodology is applied or adapted to the organization. A clear vision and governance structure including project management are recognized as prerequisites. All three elements of change --- people, process, and tools (plant, equipment, and technology) are recognized and addressed. Resistance is addressed through inclusion, communication, training and coaching with discipline used only as a last resort. |
| 4 | Adaptable | All elements of level 3 are adopted. Resistance is not a significant issue as change is considered a critical organization success factor and is incorporated in performance management. |
| 5 | Organic | Change is both bottom-up and top-down. Change initiatives are not treated as events, but are an expected adjunct to standard business operations. |
Becoming an Adaptive Organization™
Recognize the need to do three things at once:

Run your business,
Execute necessary innovative changes,
Make the process, culture, and organizational changes necessary to become an AO

Understand where they are in terms of the six level AO maturity model
Target a level of AO maturity deemed necessary for future success
Design, document, communicate, and execute

a comprehensive program to achieve the desired level
Measure outcomes including individual, team and organizational performance. As appropriate take:

Corrective action to change process or behavior
Reinforcing actions (bonuses, public recognition, etc.) to encourage further success
For more information, contact me at tholtz@tbointl.com or use the comment form below.