Collective Impact is defined as "the commitment of a group of important actors from different sectors to a common agenda for solving a specific social problem." The process of forming these initiatives involves building a strong foundation, initiating action, organizing for impact, and sustaining action. Common attributes of these projects include:
Common Agenda: This is a shared vision for change that includes a common understanding of the problem and a joint approach for solving it through actions on which all partners agree.
Shared Measurement: This is a consistent form of collecting data and measuring results or effectiveness that contributes to the increased collaboration of the organizations.
Mutually Reinforcing Activities: Instead of each organization working independently from the others, their activities are coordinated to intentionally pursue the common vision together.
Continuous Communication: Consistent and open communication is needed across the many players to build trust, assure mutual objectives, and create motivation to pursue mutual objectives toward the common goal.
Backbone Organization: This organization serves as the support for the collective impact initiative and coordinates activities between organizations and agencies.1
Translating between business and social domains
The Common Agenda for business and government entities is found in their strategic plans. It is the basis for deciding which projects proceed, how funds are allocated, and which initiatives get the attention of senior leaders. Rarely are these plans developed without the assistance of a skilled internally or externally sourced facilitator. The facilitator leads the organi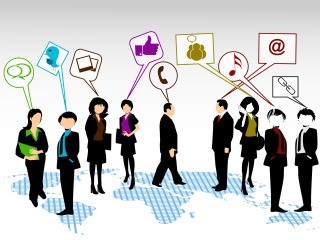 zation through several exercises including looking at internal strengths and weaknesses and external opportunities and threats. These are the very assessments that are critical to finding the organizations to participate in a collective impact and more importantly, finding each group's strengths to ensure they can make the maximum contribution.
Shared Measurement is common to corporate quality and performance management programs. Data-based decision-making is core to well-run quality programs. In a change program, a key element in getting the behavior required for success is setting up common measures and rewarding those who meet or exceed expectations. Where measures are not met, we can look at training, process change, or other corrective approaches to achieve desired outcomes.
Project management is critical to success in any unique endeavor requiring measureable results by a fixed deadline. Mutually Reinforcing Activities are brought together in a project plan. The plan ensures that each work task is assigned to the proper contributor and performed when required. Large and often highly complex projects involving millions of dollars and diverse project teams have delivered facilities, technology and the integration of disparate corporate entities.
Continuous Communications are critical to any successful team, project, or organization. At its most basic level, communicating the elements that must stop, start, or continue is prerequisite of any change, whether community or corporate. Communications is one element of stakeholder management, organization change management, and building a disconnected team into one that is high performing. Success in any environment requires well-communicated expectations, as well as training participants on how to function in the new environment. At the team level, these efforts increase capacity by enabling team members to create value. At the end user or impacted population level, we are talking about informing and getting buy-in to new tools and ways of going about daily activities.
Delivery of a complex result across large corporate or non-profit entities is not a "free lunch." The Backbone Organization is required to assign tasks, collect and analyze data, and communicate and lead change. The professional project and program managers that have built bridges, implemented sweeping technologies, and guided corporate mergers match the skills and understand the investment required to deliver complex results.
What should the consultant contribute?
Like all major projects worth doing, the quality and sustainability of a collective impact initiative requires supportive structures, processes, systems, and social/cultural environment. It is the role of project management to support the Backbone Organization to assure that these supports are in place and that the initiative reflects the above attributes so that the collective effort accomplishes its shared goals and achieves its desired impact. We know, based on work done by the Project Management Institute2 and others that strategic focus, that repeatable project management processes and understanding the human side of change are critical success factors, whether we are talking about social or organizational change. Our own experience supports these findings, whether with complex projects involving diverse stakeholders with different backgrounds, cultures, interests and affiliations, or whether those projects are in global commercial enterprises, government agencies, or community settings.
In addition to the basics above, we have also observed that the more diverse the participants in a change project, the greater the need for building a strong social fabric of healthy relationships, group dynamics, and collaborative leadership skills that enable the participants to deal with what inevitably arises over the life of the project. For this reason, we believe capacity building that employs practical tools and processes is essential to enhancing group performance, assuring that the project is planned and executed efficiently and effectively.
What kind of consultant should you use?

Your group is now ready to drive a major collective impact project. You will see a cast of consultants, some with experience in social and collective impact, and you will see others who have delivered value to corporate clients across domains, cultures, and continents. As there is no perfect answer on which to choose, we suggest you carefully assess the strengths of each and apply the thoughts and translation here to assess the strengths and experiences of the available service providers.
To obtain a graphic addressing our approach to collective impact, use the form below; connect with me on LinkedIn; or contact me directly at tholtz@tbointl.com.
______________________________________________________________________________
1Collective Impact Forum, https://collectiveimpactforum.org/what-collective-impact
2PMI Pulse of the Profession, http://www.pmi.org/learning/pulse.aspx