Is the effort it takes to capture lessons worth it? Can teams truly share know-how in a way that results in bottom line success? TBO recently answered these questions and more at the PMI Houston Conference, where we led a break-out session on "Optimizing Teams within a Project Management Program."
Is it worth it?
We know some organizations give up and others never try because of perceived cost or the initial effort required. We know this is a bad decision. PMI's March 2015 survey results indicate that effective knowledge transfer increased by at least 50%, a project team's or PMO's chances to successfully deliver on scope, schedule and cost.
How can teams share effectively?
Before we can answer this question, we first must understand how effective knowledge transfer is defined. The answer: the transfer has to be quality focused content that is targeted at the right audience.
If we assume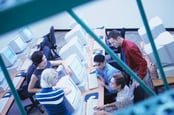 in this post that you are eliciting the right content; how do you know you if you are targeting the right audience. Follow this link to a downloadable 5 minute exercise we are making available to you and your team.
The exercise allows you to identify the knowledge you are collecting and quickly see how it aligns with your teams various skills. It will allow you to see that there may be gaps in the disciplines represented in your teams versus how the critical insight gained by your project teams is actually shared. All content should be captured with the future audience in mind and ensuring the message gets through to them. TBO believes your corporate knowledge is a critical resource and a simple shift in thinking will give your company a competitive edge.
If you have questions on the exercise, or would like help working through it – we would love to hear from you. Please feel free to contact us. We look forward to hearing from you.