Wherever you come down on the science, politics, or social impact of global energy consumption, it is indis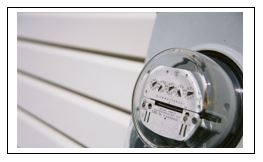 putable that organizations that improve the ratio of production-to-energy consumed improve their bottom line. If they operate for profit, this is real ownership value and if they are a government agency or not-for-profit they can turn dollars saved into improved service delivery. How big is the opportunity? The EPA reports that American business wastes 30% of the energy they consume1.
Can this waste be reversed?
PNC Bank's portfolio of facilities certified under Leadership in Energy and Environmental Design (LEED) achieved a 32% energy saving. In addition, employee workplace satisfaction jumped by a third, facilities satisfaction doubled, and water consumption was nearly halved. Surprisingly, it also affected customer behavior with significantly higher deposits and loan activity.2 Caesar's Entertainment in new or old, renovated or newly constructed facilities since 2007 has achieved a 21.3 energy savings3. In other examples involving systems and procedures change rather than new construction: a plastics manufacturer reduced electricity costs by 15%, a food service company reduced energy costs by more than 50%4, and a general use 400,000 square foot Wall Street office space built around 1900 reduced its energy consumption by 16% equating to an annual savings of nearly $270,000. 5 Highly desirable results all. Looks like a no-brainer, almost…
Why is a project and change management blogger talking about this stuff?
At their heart these are all organization change projects, which means that they must be well planned, well executed and well managed. The four moving parts: vision, pr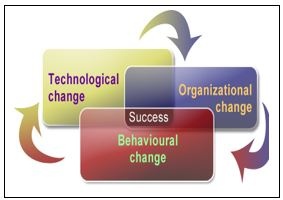 ocess, performance management, and the physical stuff (plant, equipment, and tools) need to be redesigned and delivered through effective project management. See the list below of simple energy saving changes available to every organization.
Vision. Organizations desiring to reverse energy waste need to set clear goals for the desired level of energy efficiency and the organizational behavior required to sustain it. This desired future state can come from benchmarking success in similar organizations, internal experts, or advice provided by energy companies including competing views provided by energy providers in states where electricity is deregulated.
Process. Achieving long term sustainable energy efficiency will require changes in the way individual work tasks are performed. These processes may be directly related to customer deliverables as well as processes impacting facilities and employee support.
Performance Management. In a quote that I've seen attributed to virtually every management guru of the last 100 years, "you can't change what you can't measu than happy to help the business and the environment.re." This applies to how we measure the performance of individuals, teams, formal organizational entities, and the organization as whole. Measurement can range from process conformance a leading indicator to organizational outcomes a trailing indicator.
The Physical Stuff. Depending on available budget, well designed and delivered changes to facilities and production and support systems and tools can have dramatic impact. The most obvious involve lighting and environmental control systems.
Project Management. This is the glue that holds the change together. Project management will deliver the required actions by applying a methodology, which most often is a blend of the many organization change approaches on the market adapted to the needs and culture of the organization.
Bottom Line. Finding ways to improve energy usage is a worthy goal from all perspectives. Getting results from such goals requires the same attention to planning and implementation, utilization of trained change expertise, and dedication of resources as other strategic organizational initiatives.
Simple Energy Saving Changes6
When it comes to saving energy in your small business's day-to-day operations, how-to tips abound these days. Here are some simple and easy-to-implement ideas.
Change all of your light bulbs to energy efficient compact fluorescent lamps (CFLs) and light-emitting diodes (LEDs).
Install motion detectors that automatically shut off the lights in lesser-used areas of your business.
Turn off lights when you don't need them.
Install skylights and make use of natural daylight.
Install power strips or other devices that effectively unplug computers, kitchen appliances, printers, and other electronics at the end of the day.
Install a programmable thermostat.
Replace old equipment with Energy Star appliances.
Install water efficient appliances, low-flow faucets, low-flow toilets, and high-efficiency urinals.
Install an energy efficient water heater.
Consider buying a laptop next time you need a computer upgrade (they consume far less energy than a desktop).
If you make deliveries or use vehicles frequently, combine trips to save on gas and consider using a Global Positioning System (GPS) system to find the shortest routes and avoid traffic.
Use Technology to Reduce Energy Costs
Businesses can also take advantage of new technology to reduce energy costs. For example, web cameras and accompanying software can allow companies to hold virtual meetings -- instead of driving or flying to meet clients or colleagues in distant offices.
Technology also allows business owners to create innovative and flexible work arrangements for employees. For example, by allowing two employees to work from home on alternate days, you can save money on overhead and equipment by having those employees split the use of an office, computer, and phone.
Educate Your Employees
Don't forget to educate your employees about energy saving policies you would like to implement in your business. Hold a meeting to discuss your expectations for reducing energy and waste, provide all employees with written guidelines on office policies, and invite employee ideas on how to further cut energy costs. If you approach the issue with the right attitude, most employees are more
What should you do?
Establish a vision for your organization that will enable new levels of energy efficiency
empower a team of project and organization change leaders to design and execute the required organization changes. These changes will not just affect physical things, but also your people and processes
Measure process and outcomes and reward or correct based on the data.
Enable continuous innovation
This is the first of several posts on the topic of energy efficiency. Keep watching for the next post. To receive more information or to discuss your specific situation connect with me Linkedin, use the form below or contact me directly at tholtz@tbointl.com
_______________________________________________________________________
1Companies That Don't Manage Utilities Strategically Are Throwing Money Away; Jimmy Jia; Harvard Business Review; March 22, 2016
2PNC Green Branch® Banks: New Construction Prototype; Paladino; http://www.paladinoandco.com/case-studies/pnc-green-branch-banks-new-construction-prototype/
3Reducing Energy Consumption; http://caesarscorporate.com/about-caesars/environmental-sustainability/reducing-energy-consumption/
4Midwestern Energy Group; http://www.midwestenergygroup.com/success
5GSH Group Inc. and Stellar Management: SPP Success Story; https://www.energystar.gov/sites/default/files/buildings/tools/GSH_and_Stellar_Management_SPP_Success_Story.pdf
6Energy Saving Tips; http://www.nolo.com/legal-encyclopedia/reduce-energy-costs-small-business-32275.html