Introduction
In our last blog, Tracking Expectation Alignment to Avoid IT Project Failure, Nick discussed the impact misalignment can have on project success. During many consulting engagements, we identified that organizational misalignment is a major factor in organizations and individuals failing to achieve goals.
This changed our focus to align people's expectations first, before designing, learning, coaching etc. Consequently, this approach has helped clients add millions to the bottom line, bring projects in on time, and successfully enable value added technology insertion.
In this blog we want to build on that theme. Many change projects were planned in response to the economy, yet almost half of the respondents to our and many other surveys indicate that a significant number of change projects failed to meet their stated goals.
We have learned that anticipating and managing misalignment goes to the root of building successful change. And so the theme of this blog, Managing Alignment Challenges -- so that you can increase the odds that the change you're planning will achieve its desired results.
Today, we want to focus on people alignment. We recognize there are other important components of successful change, including alignment of resources with strategy. It's a big subject. But one thing is for sure – Change has to be personal before it can be organizational.
Three Main Alignment Challenges to Successful Change
Managing Conflict and Relationship Tension. It is essential to recognize that there will be conflict, and you have to manage it. Too often, it's the 800-pound gorilla in the room. This topic will be the focus of this blog. Future blogs will cover the other challenges listed below.
Managing Complexity. The need for change can seem deceptively clear, yet getting comfortable with the underlying complexity is often difficult.
Improving Performance. If you are not actively focused on improving performance, why are you changing? For example, if you are in China, many changes get caught up with ensuring the leaders don't "lose face." In Corporate America, newly appointed leaders want to put their "stamp" on their tenure…. a primal response of new leaders that we often cloak in business school speak: "We needed a change of direction to improve the business's performance ….blah, blah, blah" And then, of course, there are the two ugly sisters – Greed and Ego.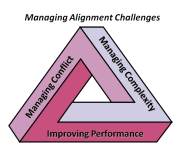 So, you have the Eternal Change Triangle. If you go into a change with these things in mind, you have the strongest structure on which to base change. If you don't see or manage these three, you will be flying a jet without any sense of direction. Too many leaders can get caught up in expediency – a compulsion "to do something" NOW!
Managing Conflict
Let's now turn to the theme of this blog; what are some of the benefits of managing conflict?
Our work with individuals and teams on a variety of projects strongly suggests that there are distinct benefits associated with developing a consistent and positive approach for dealing with conflict and project tension. This approach:
Encourages a healthy attitude to managing rather than hiding conflict
Helps objectify disagreements and prevents things from getting personal
Reduces the distracting and destructive products from poorly handled conflict situations
Prevents conflicts from spiraling out of control with associated long-term consequences for individuals, teams, organizations, and projects
Harnesses diverse views and experience in the project team for the good of the overall project and Owner
Allows for the build-up of partially developed ideas without having to wait for the fully developed "stroke of genius" to move the project forward
Enables improved decision-making as change progresses by allowing for a constant flow of diverse ideas between key players…e.g. Owners, consultants and contractors
Keeps the team from being limited by a predetermined path when alternatives should be entertained
Avoids the trap of assuming you have complete knowledge at project initiation
Addresses the tensions in managing change dynamics during the change life cycle
Very often, leaders have a false sense of control; for example, by commissioning consultants or creating teams, leaders abdicate control and allow things to take on a more beneficial life of their own.
Balances the impact of changes in power (influence) and rules of engagement among stakeholders that occur as work moves from concept approval through execution, and finally to deployment
In a software development or packaged solution deployment, power originates with sponsors for funding and requirements approval, then naturally shifts to technical team members, and finally resides with end user at user acceptance and deployment; without mitigation this natural conflict can result in major swings in scope and a great deal of time wasted

Overcomes the inflexibility inherent in standard contracts. For example, one contract assumes that the design is complete at the time of bidding, and that the contractor employs most of the resources that will be required for the project. The fact is, design is rarely 100% complete at the time of bidding and contractors subcontract most of the work.
Develops Project Teams while recognizing their different rules of engagement.
Changing Owner demands
Rapid learning
Generating and maintaining effective interaction between team members so that they can exchange views and debate the consequences of their decisions in an open and honest forum
Changing circumstances over the project's life cycle
Shifting relationship tensions between the major members of the project team
Building trust for when things do not go as planned
Summing up Managing Conflict
Conflict in life is as natural as breathing. What we have lost sight of, especially with the backdrop of what's happening in Washington, is how do you respect another party's opposing stance and achieve successful change…I heard an item on the radio about the Life Raft Debate where the students vote which professor they would choose to take the last place on their life raft…they chose the devil's advocate….because all the others tried to entertain rather than debate
Great, but how can this help me?
This is probably the first thing on your mind after reading this blog. How about filling out the comment form and asking us? If our conversation leaves you needing more, we offer coaching to improve bottom line results. If that still doesn't do it, we can work with you on design, planning, and execution required to meet your desired business results.