It is commonly understood that successful change relies on closing gaps between the current and future state. Most change practitioners categorize the gaps in relation to people, process, and tools.1,2,. Most change projects focus on the people side, with emphasis on internal stakeholders. In most projects, this comes down to the direct impacts on the users of new technology and/or process. This approach works if projects involve big technology investments like ERPs, where the overwhelming impact is internal.
Conventional Approach:
Prerequisites (Lacking these two, don't waste your time and money)
A vision: A narrative that describes what things will look like when you are done.
Governance: The mechanics of operating the change initiative. It incorporates things like leadership involvement, project management, steering groups, stage gates, polices, and procedures.
Gaps to Close
People: Those who will do the work; their knowledge, skills, and abilities; their willingness to perform in the manner expected; and the reinforcement through performance management that the organization provides.
Process: How the work will be done as described in diagrams, work rules, or how-to guides.
Tools: What the project is physically implementing, such as technology, facilities, physical moves, or some combination that represents the tools used to execute processes required to produce the outcomes in the vision.
What happens when the largest group impacted is external. This is the case in retail, financial services, and casual dining, where customers impacted by change may number in the thousands or even millions.
Why is Change Management different in a consumer-driven business? Fundamentally, no consumer-oriented company achieves its change goals without customer participation. Think about the kind of changes that impact the customer: web sites or store layout changes, marketing strategies, culture changes impacting customer service reps, and even more broadly, internal efficiencies that change the cost of goods. These changes will affect every step of the customer buying cycle that begins with the customer recognizing the need, product, or service selection from the many providers and product options, purchase transaction processes, and post purchase support3.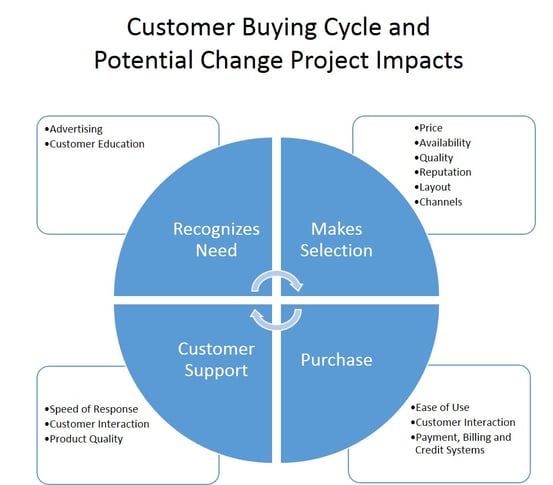 What can you do?
Assess impact on customers. This can be achieved by collecting customer input at every step in the cycle. This can be achieved in a learning cycle – listening/measuring, interpreting, acting. and listening/measuring again to confirm or adjust your actions
Independent assessment aside from the other "people gaps"

Understand the As-is and To-be state as they relate to customers.
Develop and implement a customer-centric change strategy necessary to achieve your business goals. This may require process and tools change not originally considered.
References
1 The Change Management Life Cycle; Involve Your People to Ensure Success, Jonathan Gilbert, 
Business Analyst Times, https://www.batimes.com/articles/the-change-management-life-cycle-involve
-your-people-to-ensure-success.html, April 2009
2 Enterprise Change: People + Process + Technology = Success, Authengade Partners,
https://stewarthayes.wordpress.com/2011/10/17/enterprise-change-people-process-technology-success/, October 2011
3 Understanding the Purchasing Cycle, Odyssey Blog, http://www.odysseyagency.co.uk/blog/post/
Understanding-the-Purchasing-Cycle.aspx, January 2010