Most organization transformations either result in new staffing requirements, employee positions deleted or changed, or some combination of all three. Getting the right person in a position where they have the greatest potential to contribute is a critical success factor when looking at long-term results.
Terry Barnhart is a senior consultant who has extensive experience implementing hiring processes that incorporate behavioral assessment elements. In the following post, he outlines a process that has significantly improved hiring practices across a broad range of public and private sector organizations.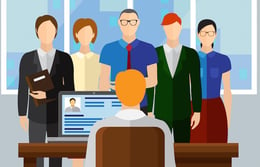 Let's look at Ralph. When Ralph was hired for his position, everyone was hopeful that Ralph would excel and be a high achiever. Now, six months later, it is clear Ralph is not the best person for the position. The main question is, how do you prevent the same thing from happening again? How do you get the "Right Hire" versus having a "Mis-Fire?"
This issue of getting the right person for the job is one that haunts business leaders. On the surface, it seems you have all the systems in place to make a good selection: you have a good recruiting firm, you conduct several interviews, and you carefully review the results of the interviews. Yet still, you make mistakes in either hiring a person from the outside or promoting someone from the inside.
There is no doubt that in order to hire the right person for the job you have to have a 21st Century hiring process. The issue for most organizations is that they apply 20th Century" thinking. In the old model, we developed a list of candidates, applied subjective judgement, and did our best to select the "right" candidate. In a "Right Hire" hiring process we temper our judgement with an objective use of assessment tools and a behavioral interview questions.
It's easy to fall into the trap of thinking that because there is an abundance of talent, many of those candidates are right for you. Consider that in these economic times, it is even more critical to have a process that ensures you select the right person from the mass of candidates available in the job-hunting marketplace.
A "Right-Hire" hiring system consists of Four Components:
Assessments for Candidates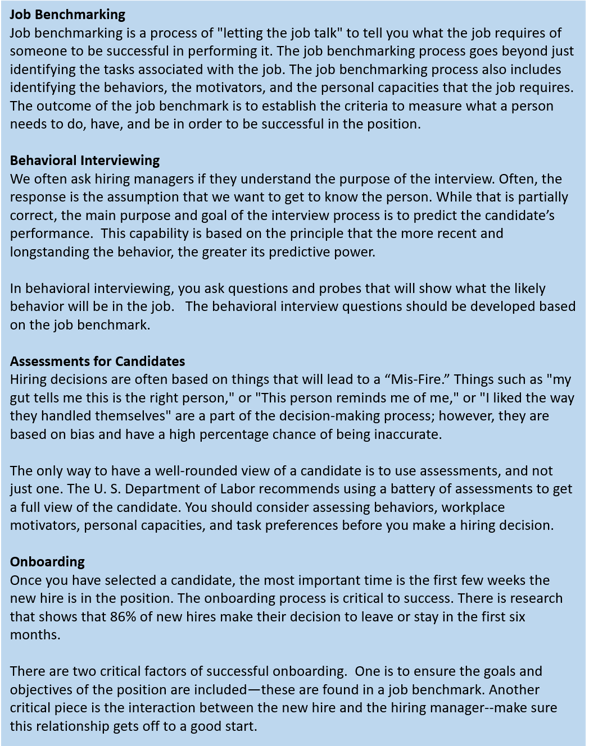 Are you currently executing or contemplating a transformation, or are you dealing with a hiring process that often fails to produce desired outcomes? In either case, consider talking to us about your hiring process and how it can be an asset in meeting your organization goals.