Recent headlines, should serve as a warning, failure to address a toxic culture can destroy the credibility and potentially the very existence of any organization. Brick and mortar companies long ago recognized that culture (and values) impacted their ability to perform well by negatively influencing/impacting their employees and the decision
s they make daily. Now, everyone is reading about sexual harassment at Uber. Fox News has lost/fired several of their highest rated personalities - O'Reilly being the latest one to leave. Rumors abound of a "guys club" culture. United Airlines has had blistering reactions from the public and even Congress to their dragging off an involuntary paid passenger, who has since claimed broken bones and other injuries. The CEO's, their Human Resources group, and their Public Relations functions are all in the toxic soup together. This boiling cauldron of dysfunction spills over into their organizations and more importantly, their customers. With the help of social media, customers are even more aware (and certainly more quickly aware) of the "dastardly actions" of these organizations.
Culture and values permeate an organization. Virtual organizations – those who don't always have a brick and mortar storefront – are now realizing that they too must pay close attention to the culture and values that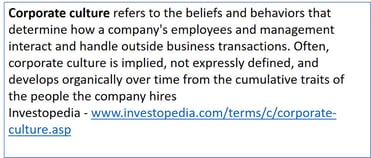 permeate their every decision. Culture is generally characterized as the unwritten rules that most everyone follow in decisions they make, actions they take, and how they interact with customers, suppliers and other partners. Entrepreneurs like Mark Zuckerberg at Facebook create a culture reflecting their personal values. More bureaucratic organizations generally "craft" the culture they want. When they acquire other firms, culture and values make or break the successful integration of those organizations. United Airlines and Continental is one visible example. With United and Continental, the cultural complications are particularly sharp. Over the past decade and a half, Continental has built a reputation as a carrier that made its employees happy and catered to customers. At pre-merger United, relations between workers and management were openly hostile, poisoned by the battles of a recent bankruptcy. Among workers at the new airline there is hope, but also palpable impatience about the pace of the process. The company has yet to reach joint agreements with any of the unions representing the newly consolidated workforce1.

The real question is how to repair/fix these toxic cultures before they sabotage your organization's future. We have a detailed approach, but the short answer is to identify the elements of culture that are important, communicate how those elements of culture get translated into behaviors and actions by the entire organization, coach or replace top leaders to ensure they reflect the desired culture, and reward/reinforce for behaving in ways reflecting the desired culture and of course correcting/punishing those not reflecting the desired culture. For more details on this topic and our approach to organizational change go to http://www.tbointl.com/blog/topic/organization-change-management or click on the button below.
---
1 Making the World's Largest Airline Fly; Bloomberg Business Week; Feb 2, 2012; https://www.bloomberg.com/news/articles/2012-02-02/making-the-worlds-largest-airline-fly