(Abstract from Take Control of Your Project - Using Expectation Alignment to Avoid IT Project Failure by Terry Merriman, PCO Associates LLC)
Whether large or small, IT projects are complex change events. They need cross-functional collaboration between two or more departments or teams. Their success or failure reverberates throughout the organization and often impacts customers. Countless studies and papers on reasons for IT Project Failure cite two critical factors:
Poor interpersonal communications

Lack of professional project management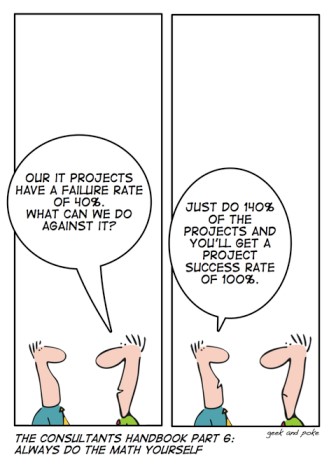 Numerous studies have shown that up to 70% of IT projects fail. Over 20 years, Terry Merriman and the other contributors to the White Paper - Using Expectation Alignment to Avoid IT Project Failure continue to uncover the usual cast of suspects, like:
Customer requirements not being adequately defined

Customer requirements kept changing

Acceptance testing was slim to non-existent
These failure statistics are fully in line with the findings of the survey of 1072 business leaders and consultants summarized in my book Focusing Change to Win which I wrote with Kelly Nwosu.
How can that happen with professionals on both sides of the design effort? Weren't they in the same meetings? What happened to the agreed requirements, testing regimens, and change request process?
Of course, they did all those things. What they didn't realize is what they believed they understood of each other was at best misaligned. The IT professionals and the business professionals each assumed that the other understood the precise meaning with each communication; each assumed specific activities were part of the other person's normal routine in a development project. So, projects failed to achieve the desired results due to:
1. Expectations not being made specific to the project or explicit to each other
a. Tasks not done as expected
b. Delivered Functionality did not meet expectations
c. Requirements weren't met
Can every project failure be traced to ineffective communication? Of course not!
2. Poor project management including
a, Inadequately defined roles
b. Passive team management
c. Not holding people accountable
d. Not providing timely and detailed progress reports to executives
What's the common factor between these two failure factors? Misaligned Expectations.
Of course, these failures do not happen overnight. The warning signs are there like:
1. Too many change orders
2. Missed delivery dates
3. Escalating reviews and re-planning
What is often lacking is a tool to diagnose this in advance; one that tells us when the train is about to jump the tracks. We need a tool that can diagnose the health of communication lines most critical to a project's success; a tool that then also provides a real-time method to open those lines of communication and align the interest of the two parties to their common goal.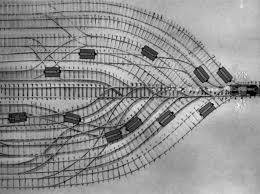 Aligning expectations between these groups greatly improves the chances for IT project success. Limited resources mean today's projects often engage only skeleton teams that are less trained and less experienced. Without a tool to identify these conditions, we have little sign that a project is in danger of failing. Communicating effectively by aligning expectations and reporting on the state of alignment is essential to project success. The alignment process and related reporting provide reliable leading indicators to prevent IT project failure. So what are the critical success factors of an IT project?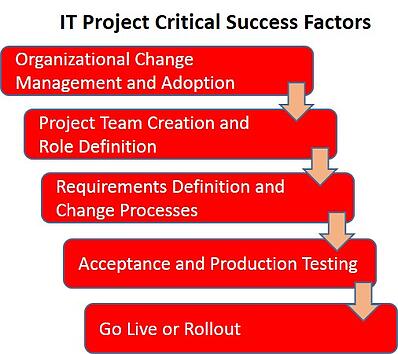 These activities are critical to the delivery a project – OTIF (On Time and In Full) and have one thing in common; they require aligned and therefore effective communication.
When a team uses expectation alignment, its many team and individual relationships are agreed, documented and monitored.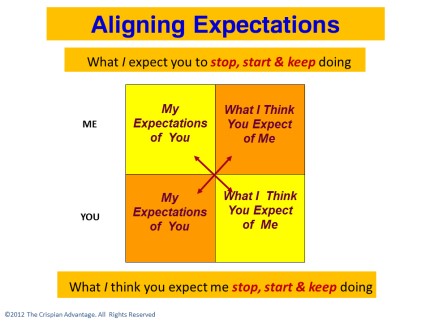 That data becomes the source of information in team progress reports that gives leading indicators of potential problem areas before they break the budget, blow the deadline, or fail to meet critical customer requirements. Not only can expectation alignment address many internal aspects of IT Project Management, it can also address the ongoing Organizational Change Management issues on IT projects. When the project identifies its stakeholders, it is important to understand the type and frequency of communications they expect from the project team.
From a different perspective, expectation alignment is a skill. It's a personal core competency that everyone should cultivate. But, to our knowledge, it's not a skill taught in public education at any level. While general communication skills are part of most K-12 curricula, and communications and media are a part of many college degree programs, we're not aware of any education system that teaches expectation alignment, This leaves a void in skills associated with documenting communications and gaining the agreements necessary to hurdle the common barriers to effective communication.
Expectation alignment has a long history of creating success from failure. Successes include:
1.
Implementation of a new customer relationship management system enabling a new sales
strategy that closed over USD $50 million in new business in nineteen weeks
2. Cutting a project's contingency fund burn rate from USD $50,000 per day to zero
3. Bringing a major construction project in on time, within budget, and with no legal challenges
Expectation alignment has proved its value. So how is it applied to an IT project?
Go to Applying Expectation Alignment to IT Projects Whitepaper
Conclusion
Effective communication is essential to strong project management and successful implementation of new or upgraded IT applications and infrastructure. The problem is that most people don't realize their lack of skill or what "effective" really is until they see the gaps and misalignments in expectation alignment data.
Use of expectation alignment provides a leading indicator of where things will fail early enough to take action.
It does this by isolating communication weak points across crucial areas expectations. Expectation alignment builds a culture of accountability by making everyone's performance visible. It also reduces assumptions and promotes a clear understanding and acceptance of roles, responsibilities and accountability among all team members. When all team members agree on precisely what they must do and what success will look like, they stay focused on those activities relevant to project success; they do not waste time on unnecessary activities, and they do not skip essential activities. IT projects run efficiently and stay on track. The probability of success is greatly improved.
Do you want to end a major underlying cause of IT project failure and gain control of your projects?
Focus on improving team communication using expectation alignment. You'll find it is well worth the investment.
Got to the White paper to see how
Editorial Board:
Managing Editor: Terry Merriman
Terry holds a Master of Science degree in Business Administration with a Systems Emphasis and is a former Certified Internal Auditor and Certified Systems Professional. Terry also owns and manages The Performance Suite, an intellectual property holding company that licenses performance improvement solutions including AlEx™ for aligning expectations, CAM™ for competency assessment mapping, and the Deal Mover System™ for complex sales environments; all co-developed with Nick Anderson of The Crispian Advantage. ( tmerriman@pcoassociates.com)
Tracy Deschamps B.Mgt, PMP – Principal – TCMG Consulting Services Inc.
A Program and Project Manager with over 16 years proven experience in Information Technology, demonstrating extensive expertise with Enterprise Applications, SAP Application & Technologies, JDE, Primavera, Maximo, Oil and Gas and Pipeline Applications and Generation IT Applications.
R.G. (Rob) Allen
Rob Allen is an outcome-centric executive who specializes in strategy, innovation and business development. He is a former IBM Corporation Executive who draws on 30 years of progressive industry experience.
Rolf Wenzel, Sr. Affiliate, Ian Murray and Company
Rolf's 30 year career in developing technology and manufacturing companies has focused on the development and tangible implementation of strategy with usable tools. His sector experience includes software, high tech manufacturing, oilfield services, industrial gases and industrial biotechnology.
Nick Anderson, Principal – The Crispian Advantage
Nick's expertise is developed over 25 years of helping clients to reduce sales costs and improve revenue growth in a "must win economy." He is passionate about impacting bottom-line results through changing behavior, and is co-author of the book.
To contact the author, make a comment, or ask for more information please complete the form below