Purpose
Our Organization Health Check will provide answers to these three key questions:
Does your organization have a well-understood target, strategy, goal, or stated purpose that governs decision making at all levels?
Does your organization function as an efficient team?
Does your organization require significant change in culture, processes and systems, organization, or location, and are you ready to take it on?
Methodology
We will conduct an organizational diagnosis using the following Assessment Model to help your organization improve performance and ensure the organization is heading in the desired direction.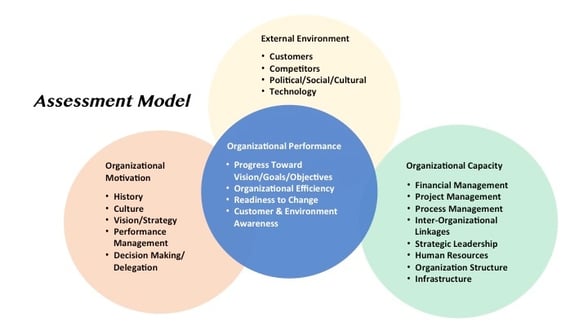 We require two elements:
One hour availability of key staff from Operations, Sales and Marketing, Finance, and Information Technology for interviews
30-45 minutes debrief to key management on findings
Presenting Our Findings
In an interactive executive workshop session, our debrief will include findings, conclusions, and recommendations from the Assessment Model, including immediate action items.
Click here for related assessment tools