SERVICES
We deliver sustainable transformation.
True, beneficial transformations are challenging. They require distinct goals, clearly understood methodology, sustained and focused participation, as well as a variety of specific skills and leadership. They generally require additional resources to help implement strategy, process and/or technology successfully without negative impact to the main business engine.
We work with client personnel from top to bottom -- company leaders, project teams, employees -- to translate strategy into systematic, executable actions and ensure that new processes and technologies are fully integrated into the core business and operationalized for positive, consistent business results.
Portfolio of Services - We ensure our client's change objectives are put into play and into practice, using transformation methods, tools and best practices in four core service areas:
Strategy -- Development and Implementation
Business Processes -- Design/Redesign and Implementation
Technology Business Case Realization -- Full capabilities utilization plus ROI
Training -- Design, Development and Delivery plus Train the Trainer
Our list of services is focused on, but not restricted to, the following, mapped here to our four core service areas.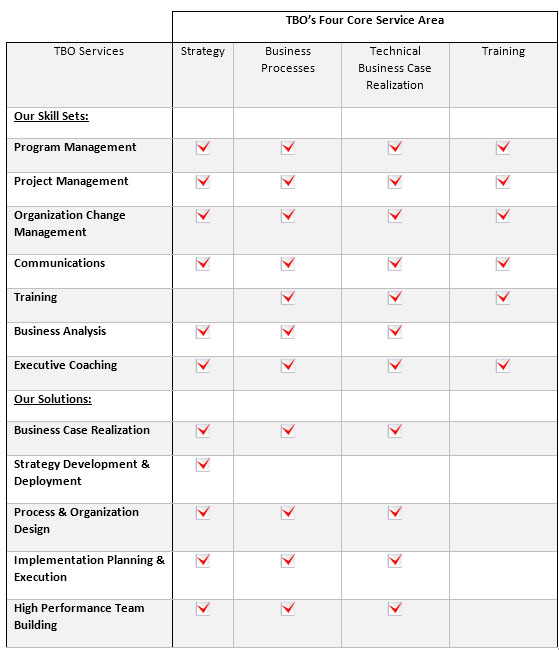 Request More Information