Setting a Higher Standard:
In addition to way we offer services, TBO is further differentiated by our desire to be graded on our performance using the T-CARD℠ -- client-specific report cards that are generated and reviewed jointly with the client. Each customized T-CARD is divided between two dimensions -- Conduct and Project Performance.
Conduct: Actions and behaviors that match what we say and do ... and what we will not do
Project Performance: Deliverables that match the client's goals and scorecard

Leadership Engagement: Objectives that align with leadership's objectives
Proactive Communications: Frequent, open, candid dialogues that keep clients up to date and contribute to well-informed decisions
Risk Management: Effectiveness in identifying and taking/recommending corrective actions
Metrics: Progress and results vs. spend
TBO's 'GPA' is based on a 4.0 scale and tracked on both a project and a firm basis, meaning that firm leadership is actively engaged with clients throughout the project (not just at the sale and the finale). TBO directors conduct periodic reviews with clients to ensure that the TBO project team is delivering to client specifications and to the TBO Code of Conduct.
Click the image below to view our T-Card.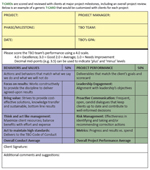 Request More Information